1983 GAMES
At 1983, we will have games rotating monthly to make sure you have new things to play! From the arcade classics, to pinball, and old school console games - there's always something new to check out!

Looking for a game we don't have? Feel free to email or message us on social media with your suggestions!
​

- ARCADE CLASSICS -
- PINBALL & MORE -

Batman: The Dark Knight Pinball
Indiana Jones Pinball
​Jurassic Park Pinball
​Lord of the Rings Pinball
Playboy Pinball
South Park Pinball
Spiderman Pinball

​Bubble Hockey
- CLASSIC CONSOLE -
Nintendo Entertainment System "NES" (1985)
Super Nintendo Entertainment System "SNES" (1991)
Nintendo Gamecube on Tuesday Nights (2000)

Powered by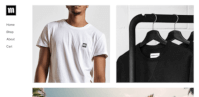 Create your own unique website with customizable templates.